cpowellscircus
Good Morning!
I just wanted to post a brief message, so everyone would know that I am still alive.
I apologize for not posting more often, but my hubby has been hogging my computer time. (Really can't wait for him to head back to work.)
My RL has been a bit crazy as well...
It is summer time, so things are always busier.
Our family did just get a new addition...
We adopted a new cat last weekend.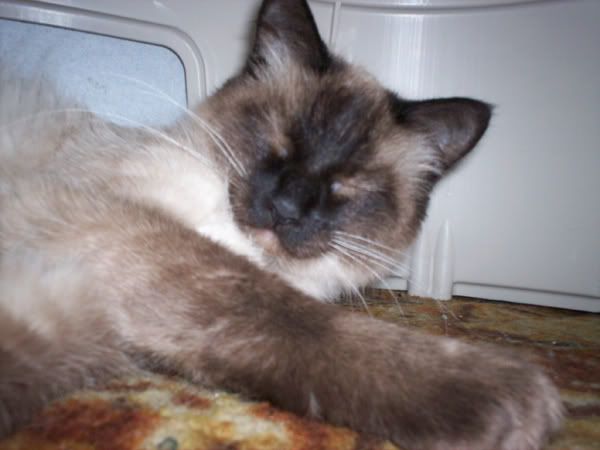 I know the picture kinda sucks, but she is the hardest animal ever to get a picture of...
She is still a bit skittish and she closes her eyes every time you snap the camera.
Anyway, her name is ZIVA and she is a 1 year old Siamese/Himalayan mix.
I can all ready tell she is going to be a handful! (She loves to play!)
Otherwise, I have been busy working on my dragons (yes, I know, I am a BIG dork).
I built a breeder wiki page (it's a place to keep track of my dragons, their offspring, etc.) and the maintainer of the main site quit. Well, everything got deleted. So, there went four months of hard work.
I reworked my page:
dragon-trees.wikidot.com/breeder:gabesgirl-s-lair
And that has kept me pretty busy!
I am still playing my sims, but my game is crashing again!
I thought I had it fixed. (I found some GUID conflicts and deleted them. Everything was working fine.)
I have no clue what is causing the crashing this time. I all ready checked for GUID conflicts and there are none, so back to the drawing board.
I really want to continue on with my legacy families, so I will keep trying to play my game!
Also, if you didn't notice, I uploaded ALL the 2nd generation Boho kids!
Go check it out:
cpowellscircus.livejournal.com/18955.html#cutid1
Well, that is it from me for now!
Hope to have a Boho Family update for ya'all soon!